Description
Fitbit Luxe Smartwatch & Fitness Tracker | Black
Battery & Power
Battery life of up to 5 days. Battery life and charge cycles vary with use, settings and other factors; actual results will vary. We recommend charging your tracker every few days to ensure you are always tracking.
Battery type: Lithium-polymer
Charge time (0-100%): Two hours
Radio transceiver: Bluetooth®
Memory
Saves 7 days of detailed motion data, minute by minute
Saves daily totals for past 30 days
Stores heart rate data at one-second intervals during exercise tracking and at five-second intervals all other times
Water Resistance
Water resistant to 50m. After getting the band wet, we recommend drying the band because, as with any wearable device, it's best for your skin if the band is clean and dry.
Materials
The Luxe housing is made of stainless steel. The Luxe band is made of a comfortable silicone (similar to that used in many sport watches) and fastens with an anodized metal buckle and tang. The special edition gorjana Parker Link Bracelet is made of stainless steel and comes with a peony silicone band.
Heart Rate
Like all heart rate tracking technologies, accuracy is affected by physiology, location of device and different movements.
Syncing
The Fitbit app is compatible with most popular phones. To set up and use your Fitbit products and services, you must install the Fitbit app on a compatible device running one of the following operating systems:
Apple iOS 13.3 or higher.
Android OS 8.0 or higher.
Syncing range: Up to 30ft
Certain features like smartphone notifications may require Android 7.0+.
Syncing requires Bluetooth® LE and internet connection.
Syncs with Mac OS X 12.2 and up, iPhone 5S and later, Android 7.0 and later.
Band size
Both small and large sizes included in box.
Small: Fits wrist 5.5″ – 7.1″ in circumference
Large: Fits wrist 7.1″ – 8.7″ in circumference
What's included:
Fitbit Luxe
Classic band (small & large)
Charging cable
From the Manufacturer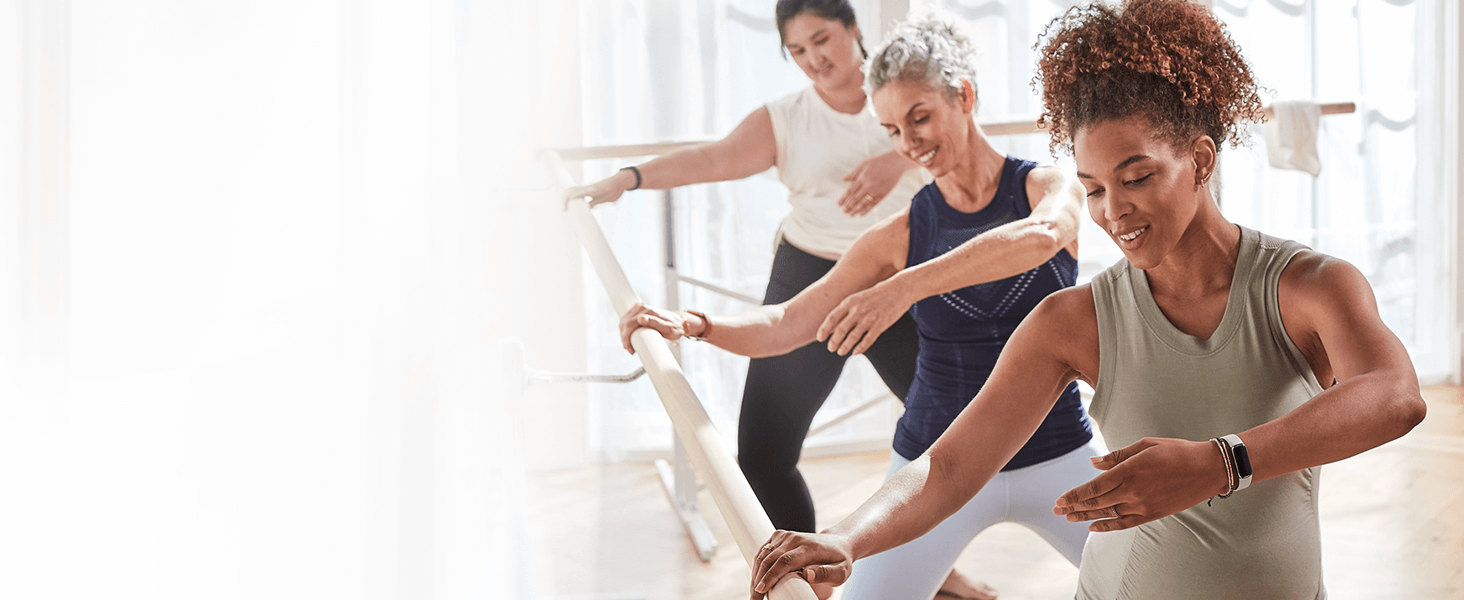 Feel the glow of achieving your potential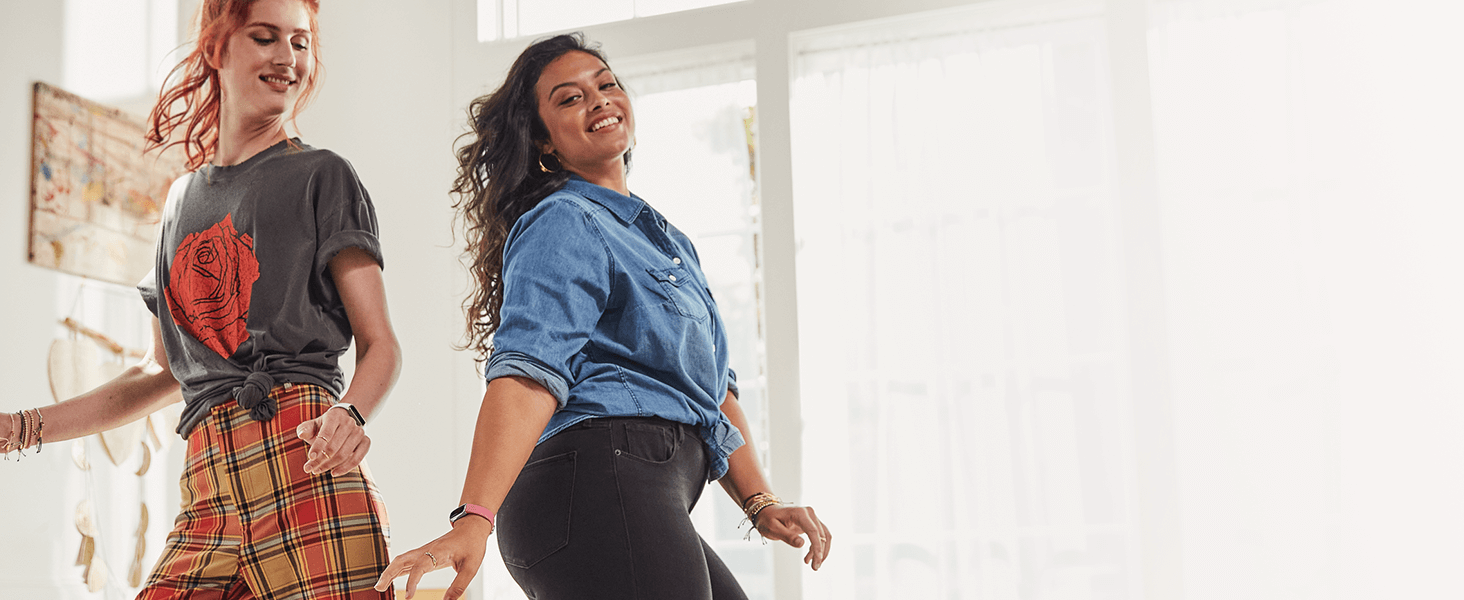 Feel equipped for more feel-good days
The sleek finish and comfortable band make Luxe ultra wearable for all day fitness and wellness management.
Tools to manage your stress

Calm your mind and monitor your stress with Mindful Minutes, Stress Management Score and more.

Restful nights for energised days

Get better sleep to power your days with sleep tracking and Sleep Score in the Fitbit app.

Go with your flow

Use the Fitbit app to track periods, record symptoms, track ovulation and more.1

Level up your activity

Active Zone Minutes help you benchmark and progress your workouts by buzzing on your wrist when you enter your personalised target heart rate zone.

Discover data driven insights to improve your health

Fitbit Premium gives you insights and tools to reveal the unseen. Plus get a detailed breakdown of your Stress Management Score, Sleep Score and more.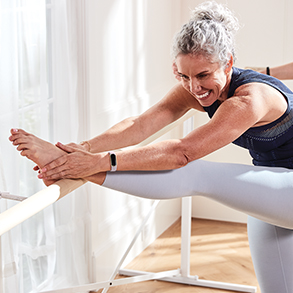 24/7 heart rate
Maximise your exercise, understand resting heart rate trends and better estimate calorie burn with 24/7 heart rate tracking.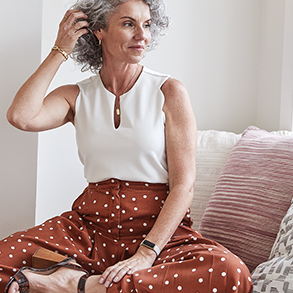 Up to 5 days of battery
Enjoy up to 5 days of battery without having to stop for a charge.
Varies with use and other factors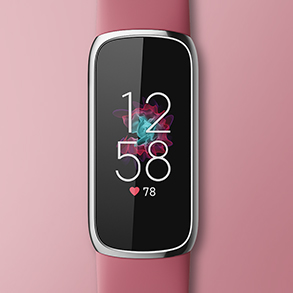 Colour Display
Boost your fitness and wellness discovery with a vibrant AMOLED colour display and give your stats and clock faces that extra stand-out.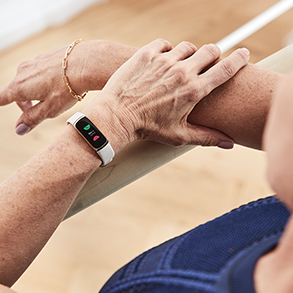 Call, text and smartphone notifications
Stay connected right from your wrist with call, text and smartphone notifications.
Notifications and app alerts are available on-device when your phone is nearby.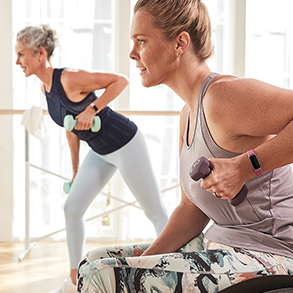 All-day activity tracking
Each part of your day impacts your goals, so Luxe tracks all your steps, distance and calories burned.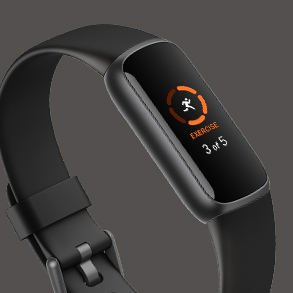 Real-Time Pace & Distance
Benchmark your progress with phone-connected GPS & see real-time pace and distance on your wrist and your Workout Intensity Map after each session in the app.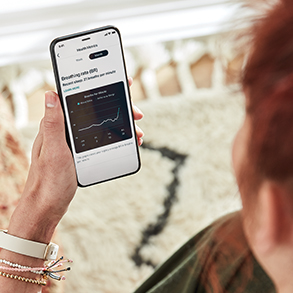 Health Metrics
Tune in to your body with health metrics like breathing rate, heart rate variability and more.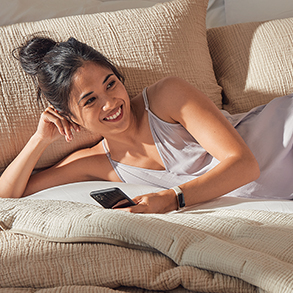 Sleep & Do not disturb
Protect your ZZZ time and 'me time' with modes that turn off your screen and silence notifications.
1. This feature is not intended to be used for contraceptive or other medical purposes. Fitbit does not guarantee or warrant that this feature can be used to achieve particular results. This feature may not accurately predict your menstrual cycles or related information. This feature is intended only to help users monitor and keep track of certain information.
2. Premium offerings are for new Premium users only. Valid payment method is required. Premium content and features subject to change. In-store and online plans are annual memberships only.