Description
Nordmende 9kg 1400 Spin Washer WMT1491WH
Nordmende 9kg 1400 Spin Washer WMT1491WH
Code: WMT1491WH
This freestanding washing machine is ideal for those who enjoy a busy lifestyle. With a 15 minute quick wash and a start delay option, it fits around what works for you.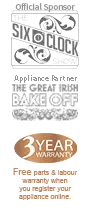 9kg Capacity
1400rpm Maximum Spin Speed
Fifteen Programmes
Pre Wash Option
Delay Time Adjustment Option
Wide Opening Door
Child Lock
79 db(a) Maximum Noise Level
B Energy Rating (New Rating Standard)
White
Three Year Warranty
Register your 3 year Nordmende Warranty here
There's a name for smart living.
For over seven decades, NordMende has been helping our customers to live the smart life – with technologies that are truly ground-breaking and testimony to our commitment, quality and excellence.
Combining great technology with our German engineering heritage, we've always looked to deliver the levels of quality and reliability that you've come to expect – at prices that represent real value for money. We know that you demand appliances that make life easier for you – and that put you firmly in control. You also demand products that are kind on the pocket in terms of running costs, and kind to the environment too. Now imagine all of this coupled with one of the best appliance warranties on the market. Add in cutting edge design and finish and it's clear to see why more and more people just like you, are making themselves at home with NordMende. Radio H. Mende & Co was founded in 1923 by Otto Hermann Mende in Dresden (Germany). After 1947, his son Martin Mende changed the name to NordMende and built the brand we know today. The company went on to become one of the most prominent German manufacturers of radios, televisions, tape recorders and record players. In parallel with its electronic entertainment products, the brand now also offeres a complete range of household appliances.