Description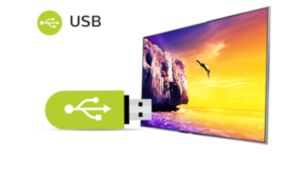 USB for multimedia playback
Share the fun. Connect your USB memory-stick, digital camera, mp3 player or other multimedia device to the USB port on your TV to enjoy photos, videos and music with the easy to use onscreen content browser.
Slim, refined stands communicate lightness
Our new stick stand was engineered to change the space beneath your TV where a traditional stand would normally sit, offering you a more immersive viewing experience. A TV that stands confidently with a nod to the future.
Pixel Plus HD. Sharp images, no matter what the source.
Philips Pixel Plus HD engine optimises picture quality to deliver crisp images with beautiful contrast. So whether you are watching cable TV or from a disc, you'll enjoy sharper images with brighter whites and deeper blacks.
Full HD LED TV—brilliant LED images with incredible contrast
Picture Quality matters. Regular HDTVs deliver quality, but you expect more. Imagine crisp detail paired with high brightness, incredible contrast and realistic colours for a true to life picture.
Two HDMI input ports and Easylink for integrated connectivity
Avoid cable clutter with a single HDMI cable to carry both picture and audio signals from your devices to your TV. HDMI uses uncompressed signals, ensuring the highest quality from source to screen. Together with Philips Easylink, you'll need only one remote control to perform most operations on your TV, DVD, Blu-ray, set top box or home theatre system.