Description
Food Collection 2-in-1 Hand Blender
---
The My Food 2 in 1 Hand Blender is the perfect choice for those of you out there that are new to cooking and want to explore a world of flavours and foods. In a clean ice white with glossy midnight black accents this blender will fit right in to any kitchen and bring ease to your cooking routine. This versatile appliance can have you chopping up ingredients for a hearty bolognese one minute and blending up dips for a dinner party the next. The My Food 2 in 1 Hand Blender is the perfect appliance for those of you that need a little help in the kitchen but still want the hands on approach.
---
Includes detachable blending leg
The 2 in 1 Hand Blender has a detachable plastic blending leg that can be easily removed. Designed to make your washing up routine easier, you can remove the leg to effortlessly clean the blades. And that's not the only benefit, if you're lacking in kitchen space you can always detach the parts and place them into a spare cupboard or drawer to keep your kitchen clutter free.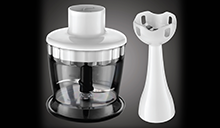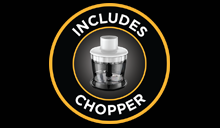 Additional chopper attachment with stainless steel blade
The My Food 2 in 1 Hand Blender is so much more than just a blender. This versatile appliance comes with an additional chopper attachment that allows you to switch between chopping and blending all with one appliance.