Description
Russell Hobbs 24662 Mini Chopper Desire Matte Black
Russell Hobbs 24662 Mini Chopper Desire Matte Black
Desire Matte Black Mini Chopper
The Desire Matte Black Mini Chopper combines extraordinary performance with a stunning appearance into one compact design. In a premium matte black, this chopper has a high performance to match the premium colour. It's the perfect solution for speedy chopping up various ingredients – this mini chopper can do it all. Being the perfect helping hand to have in your kitchen you can effortlessly chop, dice and slice your way through every task. Whether you're chopping up onions to sneak into your little ones lasagne or you're slicing up cucumber to add into your salad – no task is too tough for the Desire Mini Chopper.
Easy operation
Say goodbye to complicated displays and endless buttons because this chopper only takes one touch. With one easy to use button, you can simply hold it down and be slicing, dicing and chopping away in no time at all. And if you're someone that likes the hands-on approach to cooking, then you'll love that the Desire Matte Black Mini Chopper has a manual pulse function that still requires your magic touch to start.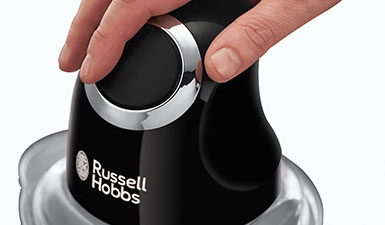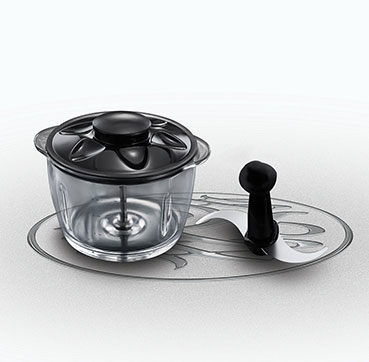 Universal steel blade
With a resilient universal steel blade the Desire Matte Black Mini Chopper is strong enough to slice even the toughest ingredients. It doesn't matter if you're chopping up vegetables to sneak into your little ones lasagne or you just need a little helping hand speeding up your chopping – these blades can take on anything.
500ml capacity
With a 1 litre glass chopping bowl that has a 500ml capacity for food you can chop away at enough ingredients for dinner for the whole family.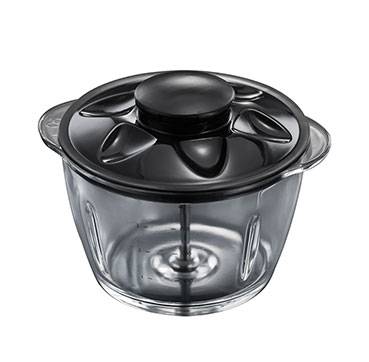 Stainless Steel Blades

One touch operation

500ml capacity

200 W
---
200W
1 litre glass bowl with 500ml food capacity
Storage lid included
One touch operation
Universal steel blade – suitable for all food types
Dishwasher safe parts