Description
This 3 in 1 Deep Fill Sandwich Maker is a versatile appliance that can cook you up a variety of tasty treats. With 3 removable grill plates including a waffle plate, toastie plate and grill plate you can easily swap between them all for easy and fuss-free cooking. Whether you're decorating waffles in endless topping with your little ones, grilling some bacon for your breakfast or even toasting a cheesy golden toasty for a lunchtime snack – the 3 in 1 Deep Fill Sandwich Maker can do it all.
---
Deep Fill Plates
We know that a really good toastie is down to its filling, which is why we've designed our grill plates to be deep enough to hold all of your flavoursome fillings. Whether your craving a tasty tuna melt or a classic breakfast toastie packed with cheese and ham – you can do it all with the 3 in 1 Deep Fill Sandwich Maker.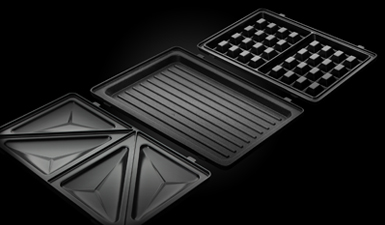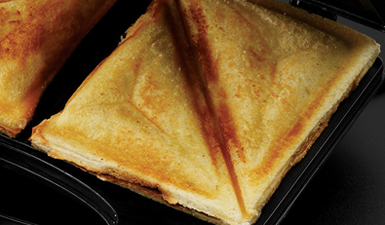 Easy Clean
We've designed our 3 in 1 Deep Fill Sandwich Maker to be easy to clean with non-stick plates that can be easily wiped down after use or put straight in the dishwasher. Now you can effortlessly clean the plates straight after using them so you won't have to worry about washing up later.
Removable  plates: Sandwich plate, Waffle plate, Grill plate
750W power
Deep fill sandwich plates
Easy to clean non-stick coating
Ready to cook Indicator lights
Non slip feet
Stand up right storage
Cord storage
Handle with locking clip

2 YEAR GUARANTEE +1