Description
Samsung RS68A8530S9/EU Series 7 American Style Fridge Freezer Silver
Samsung RS68A8530S9/EU Series 7 American Style Fridge Freezer Silver
The Samsung RS68A8530S9/EU American-Style Fridge Freezer has a water and ice dispenser that'll give you cubed ice for fast refreshment, or crushed ice if you're in a mojito mood.
Whether you want to store wine, champagne or fizzy drinks, the RS68A8530S9/EU is a perfect choice. The wine shelf keeps your favourite red, white or rosé chilled, and the wine rack is large enough for bigger bottles too.
Twin Cooling Plus gives both the fridge and freezer their own cooling systems. That means that your fridge and freezer both have the perfect humidity level and will stay that way.
The Total Frost Free feature maintains an even temperature across your whole fridge, so you'll always have generous space to store everything you need without losing corners to ice.
Features:
178 x 91.2 x 71.6 cm (H x W x D)
Fridge: 409 litres / Freezer: 225 litres
Total frost free
Water & ice dispenser (no plumbing required)
Fan cooling creates the ideal conditions in your fridge
Samsung RS68A8530S9/EU Series 7 American Style Fridge Freezer Silver
More inside, same outside
SpaceMax™ Technology
When you're short on space, but still need to cater for big events, there's SpaceMax™. It works by making the walls slimmer, so the same size fridge on the outside has a larger capacity inside. All without compromising on performance. You really can get the best of both worlds.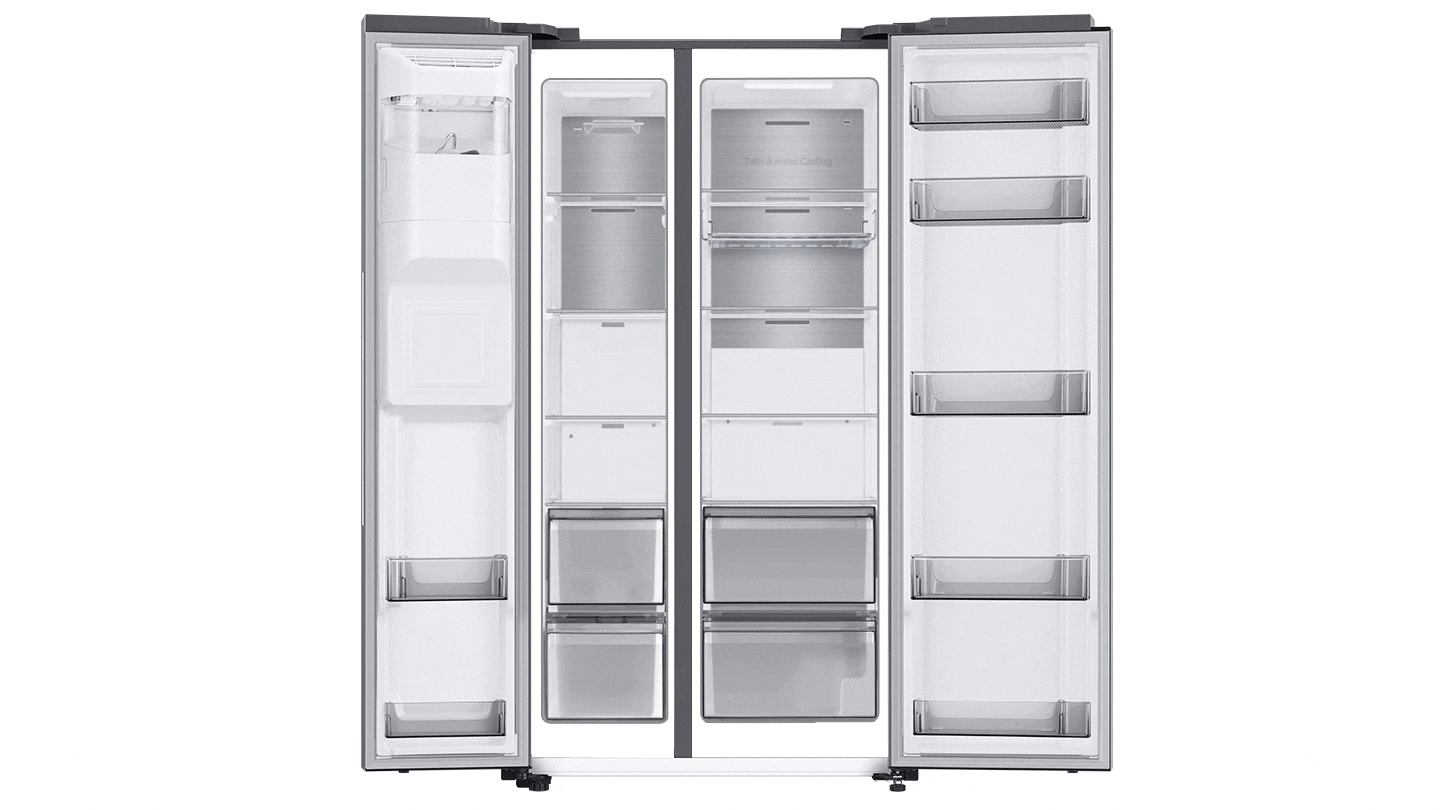 *Image may differ from actual product
Fresh as a daisy
Twin Cooling Plus™
Wouldn't it be good if all your food in the fridge stayed fresher for longer? With two separate air flows and precise temperature control, Samsung Twin Cooling Plus™ does just that. So no more dried out vegetables or rubbery cheese. Not only that, but it stops food odours mixing, so your food tastes the way its meant to.
Based on internal testing compared to a conventional cooling system.
Crushing it
Non-plumbed water and Ice Dispenser
Here's something cool. Whenever you fancy chilling out with a refreshing drink, you'll have cool water, crushed or cubed ice at the touch of a button. Better still, you don't even have to plumb it in. Handy if your Fridge Freezer isn't close to your water supply.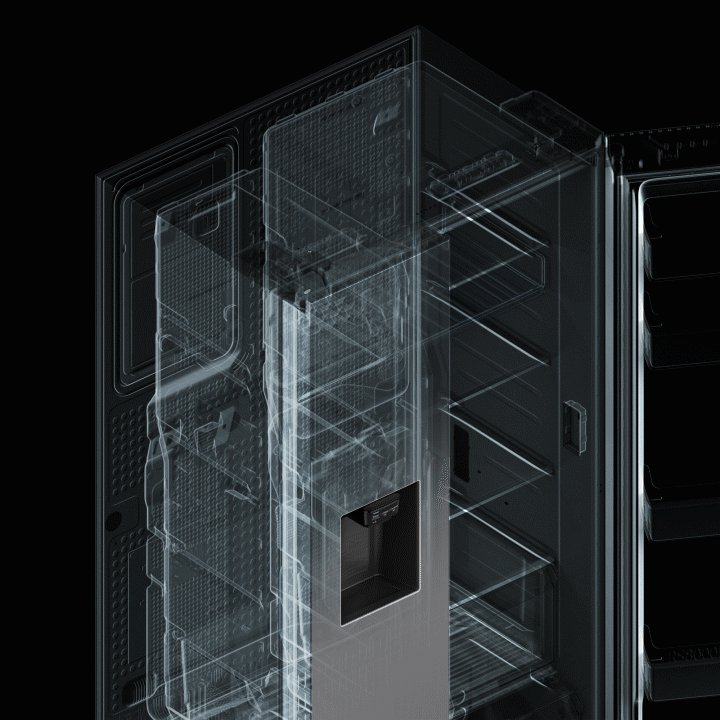 Chill your wine, champers and more
Wine Shelf
Keep your wine and champagne perfectly chilled with the extra-wide wine rack, so you're always ready for a special toast. And if that's not your style, the wide, flat shelf is great for storing pizza or large plates too.
Modern and sleek to suit your style
Seamless and Sleek Design
Sleek and cool. Flat streamlined doors, a recessed handle and chic water dispenser satisfy your needs and keep things looking good.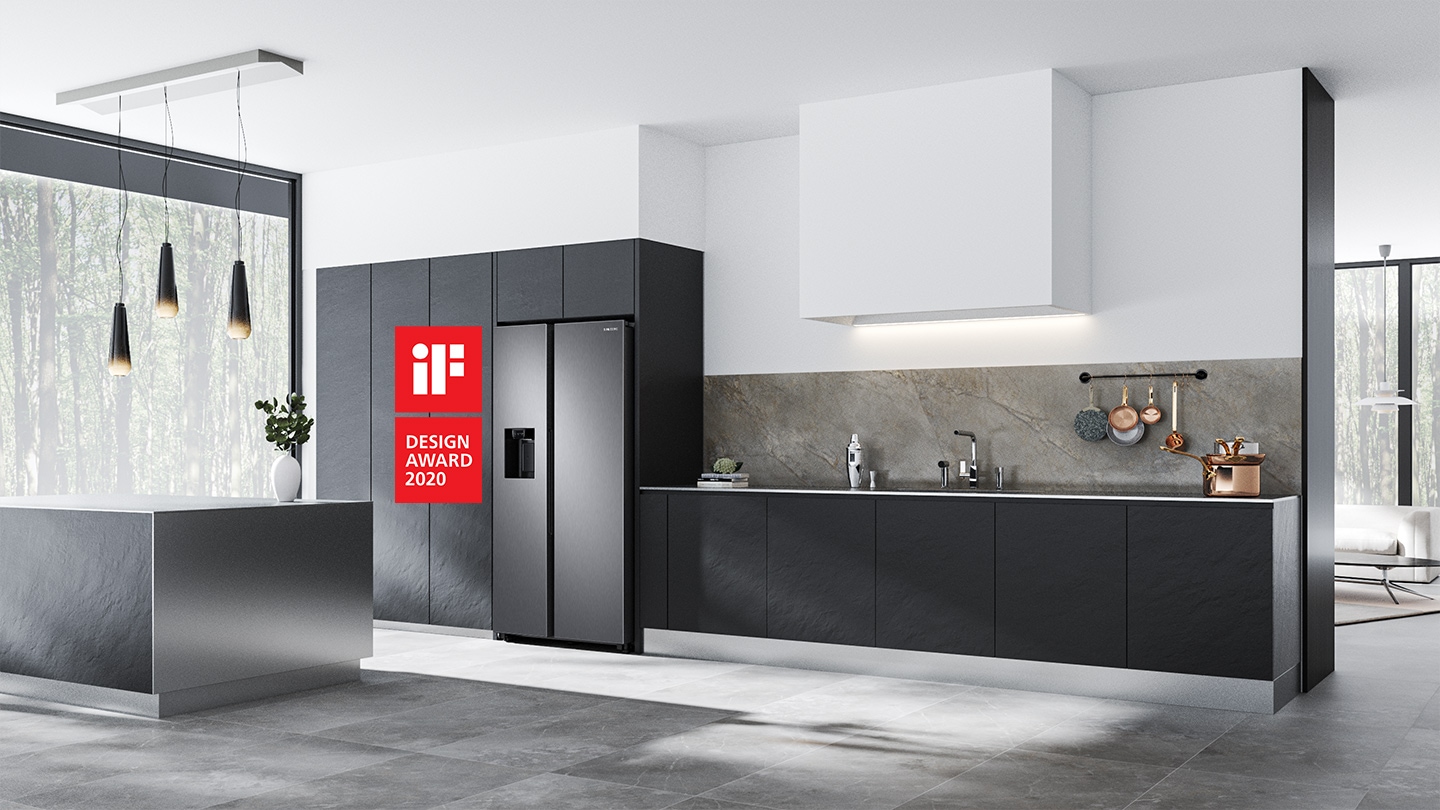 More where it matters
Flat Duct
Every inch of fresh space matters within a fridge, so Flat Duct makes sure of it. Situated completely flat in the rear of the fridge unlike conventional ones, the thin cooling vent minimises dead space and creates more room to store food just as effectively, without compromising on taste or performance. Bon appetit.
Control made easy
Easy access controls
Discover improved accessibility and simplified use of the control panel with Easy Access Control. Placed inside the fridge, its location is easier to reach in case of mobility impairments.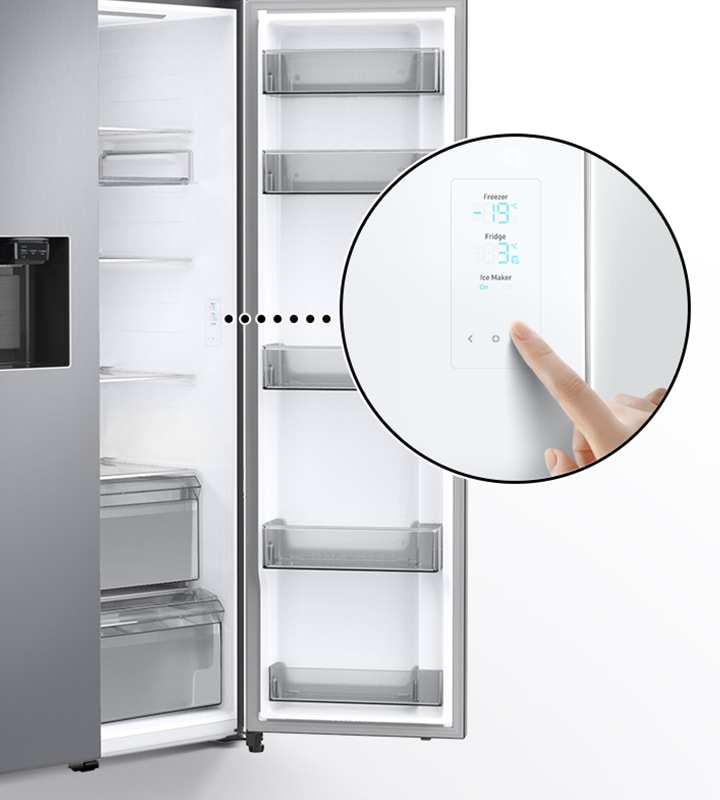 A smart use of energy
Digital Inverter Technology
The Digital Inverter Compressor cleverly alters the fridge's power and running speed to how much cooling is needed. So the temperature is constantly perfect, making it more efficient, as well as less noisy and longer-lasting.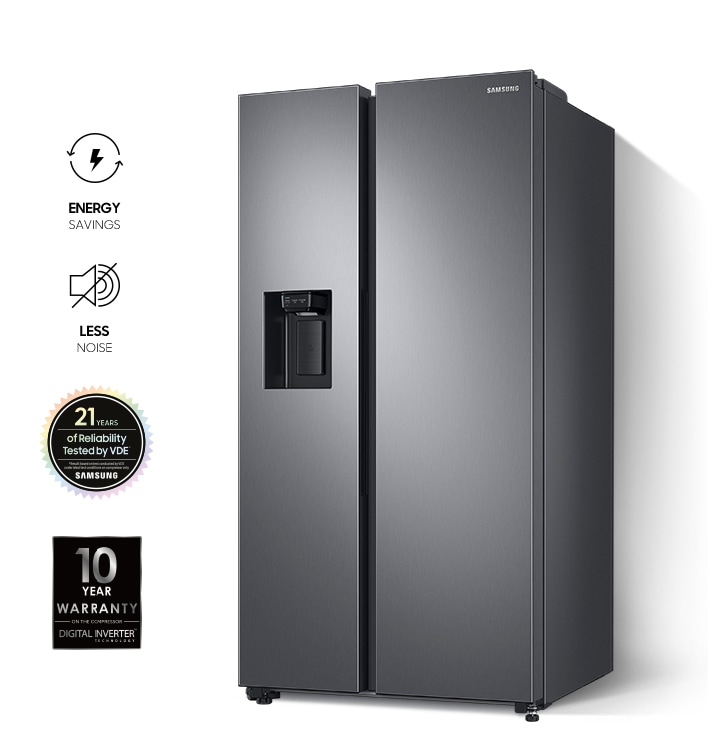 Consistent freshness
Precise Cooling
Preserve the freshness, flavor and texture of food for longer. Independent coolers in each compartment cool every corner evenly. Advanced insulation reduces any fluctuation, no matter how hot or cold it is outside. Digital Inverter Technology also senses and controls the temperature precisely.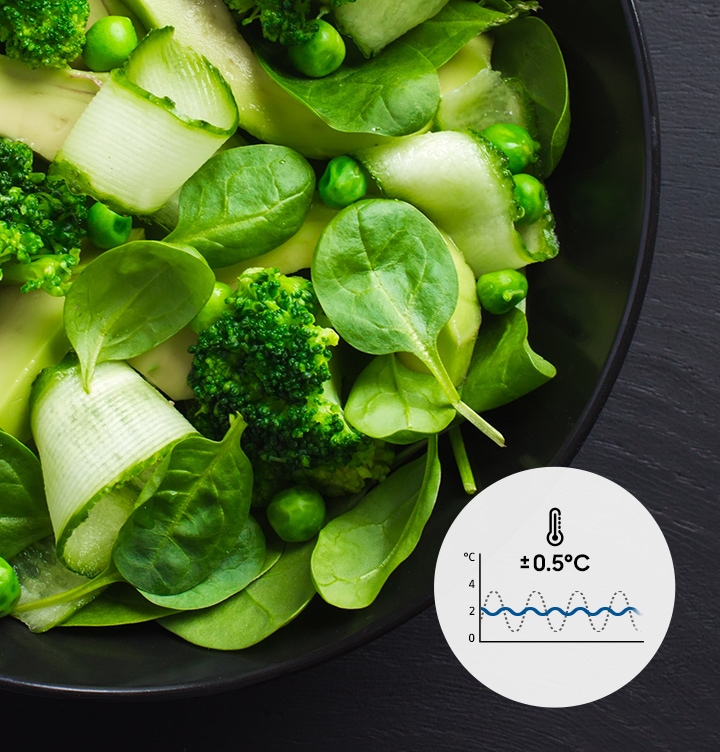 Ice and space
Indoor Ice Maker
Create more space to store more food, but still have enough ice with an Indoor Ice Maker. As it's built into the door, it gives you extra storage by freeing up freezer shelf space, but can make and store plenty of ice. And its transparent plastic cover means you can easily see how much is left.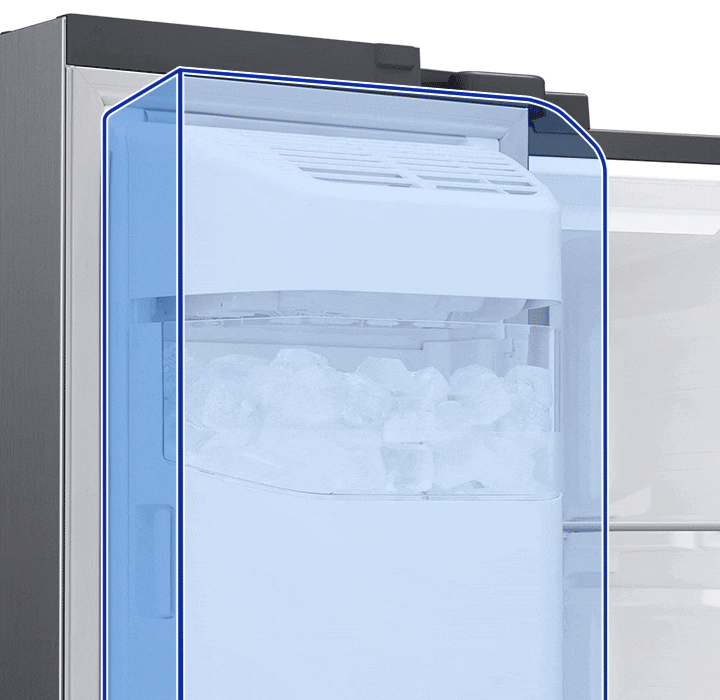 The power is yours
Power Cool / Power Freeze
Enjoy a rapid cooling performance. At the touch of a button, Power Cool blows intensely cold air into the fridge to quickly cool your groceries or favorite drinks. Power Freeze delivers a fast blast of cold air into the freezer. It's great for freezing or firming up frozen food and making ice.
5-year warranty on parts & labour available on this appliance

20-year warranty on the compressor